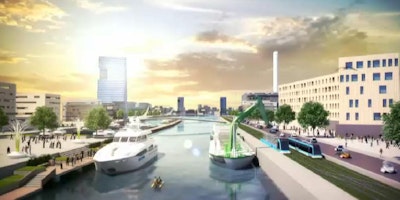 StadsSalonsUrbains : Le nouveau PRDD: un réel projet de ville? / Het nieuw GPDO: een echt stadsproject?
Friday, June 9, 2017 from 6:00 PM to 8:00 PM (BMT)
More Information →
Lectures-debat/debatten
Friday/Vendredi/Vrijdag, 18:00 – 20:00, Beursschouwburg (Rue Auguste Ortsstraat 20-28, 1000 BXL)
EN/ Lectures and debates on urban matters. A meeting point for urban professionals, students and all city lovers, just before the week-end starts.
FR/ Conférences et débat sur des thématiques urbaines. Le point de rencontre pour les professionnels urbains, les étudiants et les amoureux de la ville, juste avant que le week-end ne débute.
NL/Lezingen en debatten over stedelijke kwesties. Een ontmoetingsplaats voor professionelen, studenten en liefhebbers van de stad, juist voor het week-end start. 
Avec/ met : Isabelle Pauthier (ARAU), Anne Descheemaeker (BRAL)
Prochains / Volgend / Next StadsSalonsUrbains: 
28/04: Why Detroit matters. Decline, renewal and hope in a divided city - Brian Doucet (Erasmus Universiteit Rotterdam), René Kreichauf (Cosmopolis), Brass'Art Digitaal Café
05/05 : Brass'Art, nouvelle centralité de Molenbeek - Pierre Vanderstraeten (UCL), Karim Majoros (Echevin Molenbeek), Mohamed Ouachen (Diversité sur Scènes), Sanae Jamaï (Diversité sur Scènes), Beursschouwburg
12/05: Jérusalem – Bruxelles, villes divisées - Simone Susskind (Member of the Brussels Regional Parliament), Meron Rapoport (2 States, 1 Homeland), Awnin E Almashni (2 States, 1 Homeland), Eliaz Cohen (2 States, 1 Homeland), Jihane Sfeir (ULB), Beursschouwburg
19/05 : Quels espaces publics pour le Métro Nord ? - Olivier Alexandre (HELMeTRO), Benoit Moritz (MSA), Vincent Carton (ancien directeur Bruxelles Environnement, ancien administrateur STIB), Beursschouwburg
02/06 : Le Plan Régional de Développement Durable (PRDD) : C'est quoi ça ? / Het nieuw Gewestelijk Plan voor Duurzame Ontwikkeling (GPDO) : Wat is dat ?- Christophe Soil (Perspective Brussels), Jean de Salle (urbaniste et architecte), Brass'Art Digitaal Café
09/06 : Le Plan Régional de Développement Durable (PRDD) : un réel projet de ville ? / Het nieuw Gewestelijk Plan voor Duurzame Ontwikkeling (GPDO) : een echt stadsproject ? - Isabelle Pauthier (ARAU), Anne Descheemaeker (BRAL), Brass'Art Digitaal Café